"If you don't keep score, you are only practicing."
-Legendary American Football Coach, Vince Lombardi
Thank you for getting in the game with our SDG12 team to impact sustainable consumption and production (SCP)! SDG12 has 11 Targets and initially appears to have 12 Target Indicators to measure progress. However, using business practices, SDG 12 actually has 22 Target Indicator, including alpha and numeric sub-indicators. As a standard business practice, a key performance indicator (KPI) should be specific and measure only one parameter.
Only four out of these 22 Target Indicators might be helpful for businesses with no modifications. With minor changes, a third of the indicators can be adjusted for business use. Our team assesses that the rest need to be replaced by entirely new KPIs.
Interestingly, for about two years, the United Nations did not have any measurements for the Goals. Can you imagine a business aiming to achieve a goal without any measurable indicators? The UN SDG Indicators are directed towards national outcomes that support governments', NGOs' and other international institutions' progress toward sustainable development at the national level. This is why many of the Target Indicators are not directly relevant to a business. In every Target Chapter of our SDG12 Corporate Guidebook, we provide insights and suggestions to establish KPIs that chart progress. We also demonstrate how to use guidance from ISO 26000, the International Standard for Social Responsibility, in developing KPIs.
Let's take Vince Lombardi's imperative to keep score a bit further. As a global research and writing team, we will shift from American Football to the Football World Cup. We agree that you're only in the game if you're keeping score, but imagine a field with no goal at either end. Imagine green and red jerseys chaotically swarming the pitch with no place to score. Where does Germany's Manuel Neuer stand poised to defend against Serbia's Aleksandar Mitrovic? To keep score, you need a structure of goalposts and crossbars. If the ball bounces off the crossbar, it is still in play. We all can agree if a goal is scored. There are also time boundaries in the game; the players don't just keep playing until they collapse.
In the same way, this is where KPIs come into play and work in concert with corporate strategy to ensure timely, reliable, and credible data that is actionable and supports broader company initiatives. We've discussed that the UN Target Indicators are not specific enough. KPIs must be clear. They must also be measurable, achievable, relevant, and timebound, just like keeping a score on the field.
In business, KPIs are effective when they are material to your core business activities, capitalize on your company's resources and capabilities, and are closely aligned with your corporate strategy. All to say, this is not a one size fits all scenario with KPIs! You need to ensure that you perceive the KPIs as adding value across the business value chain.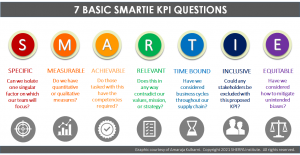 KPIs can be further broken down into leading and lagging indicators. As William Blackburn explains in The Sustainability Handbook, leading indicators "measure the attitudes, behaviours, efforts, or conditions that may eventually affect the outcome of concern" (Blackburn, 2007, p. 12).
In football, a leading indicator could be a team's amount of ball possession. A SMART KPI could be the amount of time a team has control of the ball for 70% of the duration of a game in every match. In contrast to leading indicators, according to Blackburn, lagging indicators measure a company's progress in achieving its goals. A SMART KPI for a lagging indicator could be winning the game by a difference of two goals in each game.
In our upcoming insights article, we will demonstrate how the UN SDG target indicators can be deconstructed and reconstructed with a focus on developing a SMART indicator. The article will guide you, step by step, in recreating relevant KPIs that can be utilized in your business and be modified to apply to a diverse set of scenarios with necessary modifications using the SMART framework. We look forward to providing you with the essential support in identifying strategic KPIs for your sustainable development goals within your business.
If you have any questions or thoughts on this topic, we invite you to share below. Has your business produced SMART KPIs for SDG12?  We'd love to hear from you!  Thank you again for your interest and stay tuned by signing up for our forthcoming articles.
Works Cited
Blackburn, W. (2007). The Sustainability Handbook. London: Earthscan.
Copyright 2021 SHERPA Institute. All rights reserved – please cite and link to this web page.